14 Colorado Convention Rental Techs
| | |
| --- | --- |
| Rentals - Audio Visual: | 2 |
| Rentals - Copiers: | 1 |
| Rentals - Desktop Computer: | 1 |
| Rentals - Laptops: | 1 |
| Rentals - Microphones / PA: | 2 |
| Rentals - Displays: | 1 |
| Rentals - Printers: | 2 |
| Rentals - Projectors: | 2 |
| Rentals - Sound Systems: | 2 |
| | |
Colorado Convention Center AV & Computer Rentals

Over 100 Colorado Based Technicians, Engineers and Installers are available to deliver and install AV equipment at your next Colorado convention.
Audio Visual Equipment, Staging, Lighting, Sound, Video, Digital Signage, Computers, even and independent wireless connection to the internet.
Have your convention in Colorado
The Colorado area is popular amongst travelers because of its beautiful scenery, and being located within the Rocky Mountain region, Colorado has lovely mountainscapes and terrain. Colorado is especially popular in the colder months where skiing is prevalent in the area. These aesthetics creates an excellent atmosphere and helps to attract many tourists to the area which is one of Colorado's leading industries.

Colorado is not just mountains though, with large large cities like Denver being located in Colorado makes the state a very popular place to schedule your next conference, convention, or meeting.
Nevada Convention Facilities: Most Popular
Pepsi Center - Denver, Colorado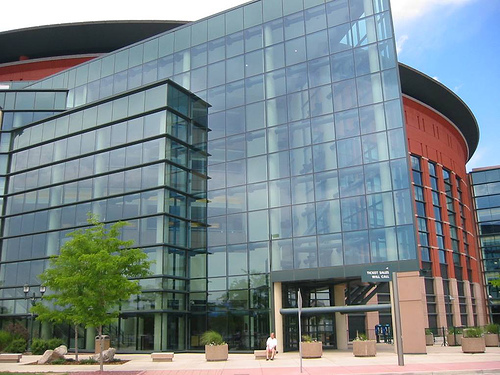 Construction on the Pepsi Center began in October of 1999 and took 6 years to complete. Pepsi Center is now one of the most popular sporting event vendors and was home to the 2001 NHL All-Star game and the 2001 Stanley cup finals. This year, Pepsi Center is scheduled to serve as the main venue for the Democratic National Convention.
Event Calendar
|
Directions
|
Floor Plans
Colorado Convention Center - Denver, Colorado
The Colorado Convention Center is one of the most user friendly and advanced convention centers in the United States. Holding over 1,200,000 square feet the Colorado Convention Center is capable of meeting any needs a convention organizer and planner could possibly need and is located in downtown Denver. One of the trademarks of the Colorado Convention Center, is its architecturally pleasing design and the blue bear looking into through the windows at passing patrons.
Event Calendar
|
Directions
|
Floor Plans
Convention Center Technology Rentals
Desktop rentals can be great if you are setting up interactive kiosk stations, or temporary computer labs.

Laptop rentals are great if you need on-the-go computing for your event, so that you can stay connected.

If you need fast and lightweight computing to keep track of your information during your event, then you should get a tablet pc rental.

Projector rentals can be an essential component of a convention if you need video presentation technology.

Plasma rentals are also a great asset for presenting video at a large convention, and we can deliver and install your plasma rental.

Video wall rentals are great for presenting large scale video to large audiences, and are easy to get delivered and installed from our agents.