Boston Convention & Exhibition Center Computer & AV Rentals
Other Massachusetts Convention Locations:
MIT Endicott House - Dedham, MA
Endicott House is not your ordinary conference center in Boston. The estate is located in a secluded setting on 25 acres. We offer fine food, exceptional service, state-of-the-art meeting facilities, and all-inclusive package plans.
Metro Meeting Centers - Boston, Massachusetts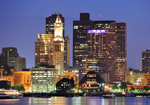 The Metro Meeting Centers in Boston are located in the city's Financial District, ten minutes from Logan Airport, two blocks from South Station.
ConventionVendor.com is an independent nationwide supplier of short term computer, audio visual and convention equipment rentals. With over 30 computer and av rental business partner companies within 25 miles of downtown Boston, a Tech Travel Agent can book technology rentals to those attending events at the prestigious Boston Convention and Exhibition Center.
The Boston Convention and Exhibition Center (BCEC) is the largest convention center in the Northeast United States, measuring over 516,000 square feet of contigious exhibition space. The convention center is also located near the Boston waterfront and near the Logan International Airport making it a very popular destination.
The Boston Convention Center and Exhibition is very well known for its state of the art facilities, great flexibility in hosting conferences and exhibitions, and state of the art services. Being one of the largest northeaster convention centers has made it an extremely popular destination for our customer convention planners and equipment installers.
Our Tech Travel Agents can reserve the computer or audio visual hardware you need for your Massachusetts trade show, conference or event. Even if you are thinking of a small laptop rental, projector rental, plasma rental, or any other single unit short term rental from ConventionVendor.com this can be an intelligent choice as it saves you the worry and hassle of equipment damage and transportation to and from your event.
Convention Center Technology Rentals
ConventionVendor.com is not affiliated with or in any way authorized by The Boston Convention and Exhibition Center. ConventionVendor.com uses authorized business parthers where required at specific venues. ConventionVendor.com is an independent nationwide technology rental provider and this page in no way implies exclusivity of our services at the The Boston Convention and Exhibition Center.
---

All rentals, services, products, and promotions on this website are subject to location & availability.

© 2023 Convention Vendor
All Rights Reserved
Founding/Past Member of the NCRA/ITRA
National Computer Rental Technology Association/International Technology Rental Association


Member of the Tech Army Organization

Hosting and Design by Xponex Media