Columbus Convention Center Computer & AV Rentals
Other Ohio Convention Locations:
The International Exposition Center - Cleveland, Ohio
The IX Center is one of the largest convention and exhibition centers in the country with over 1 million square feet of exhibition space. The IX Center is also known for holding some of the largest events in the country due to its capable staff and very promising exhibit space.
Duke Energy Center - Cincinnati, Ohio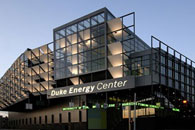 This recently renovated and expanded convention center is located at the heart of downtown Cincinnati with many hotels, shopping centers, and restaurants within walking distance of the convention center.
The Greater Columbus Convention Center is located right in the middle of downtown Columbus. This location is alive with cultural activities, arts, sports and entertainment. "As the winner of multiple Prime Site and Inner Circle Awards, this comfortable, striking facility has become one of North America's most popular sites for local, state, regional and national groups and organizations." The Greater Columbus Convention Center is a smart choice for for your next convention or event.
The Greater Columbus Convention can house even the largest conventions with over 1.7 million square feet of space. The Convention Center is a bold landmark is Columbus with its unique spaces, sharp angles, and modern design. Being in the center of Columbus allows it to be surrounded by a vast amount of restaurants, hotels, shops, and venues.
ConventionVendor.com offers a vast selection of convention and trade show rental equipment including: LCD & Plasma Rentals, Desktop PC Rentals, Laptop Rentals, File Server Rentals, Columbus Projector Rentals, Printer Rentals, Copier Rentals, Wireless Microphones, Amplifiers and Presentation Equipment Rentals, all to the Columbus, Ohio Convention Center and the surrounding Columbus area.
ConventionVendor.com can save you money on your next visit to the Greater Columbus Convention Center by offering in house technology rentals at a fraction of the cost of buying equipment for your booth. We cover every aspect of the rental including delivery, installation, and set-up, making your job hassle free!
Convention Center Technology Rentals
*ConventionVendor.com is not affiliated with or in any way authorized by The Columbus Ohio Convention Center. ConventionVendor.com is an independent nationwide technology rental provider and this page in no way implies exclusivity of service to The Columbus Ohio Convention Center.
---

All rentals, services, products, and promotions on this website are subject to location & availability.

© 2023 Convention Vendor
All Rights Reserved
Founding/Past Member of the NCRA/ITRA
National Computer Rental Technology Association/International Technology Rental Association


Member of the Tech Army Organization

Hosting and Design by Xponex Media