Devos Convention Center Computer & AV Rentals
Other Michigan Convention Locations:
Cobo Convention Center - Detroit, MI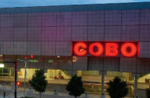 COBO Center is Michigan's World Class meeting and convention facility. The 2.4 million square foot complex, located on the bank of the Detroit River, is the centerpiece of downtown Detroit's Civic Center.
Located in Grand Rapids Michigan, DeVos Place was built in 2003 on the Grand River and serves as a multi-purpose convention center. DeVos Place features over 1 million square feet of exhibit space and features the DeVos Performance Hall and Civic Auditorium which are used for concerts, Broadway shows, orchestra performances, and other special events. DeVos Place also features the Grand River Promenade, which is the name for the skyway which connects DeVos Place and the Van Andel Arena.
Rentacomputer.com is an independent nationwide supplier of short term Audio Visual, computer trade show equipment rentals. It has always been our pleasure to offer these services to those attending the esteemed Grand Rapids, Michigan convention venue better known as DeVos Place Convention Center.
DeVos Place is ideally suited for all type of conventions, trade shows, conferences, and performing arts and can host several events simultaneously. With scenic view overlooking the Grand River, combined with the centers flexibility and size, DeVos Place has become a hotspot for computer and audio visual rental technology.
So relax and let your Tech Travel agent book your upcoming technology rental need for your next Devos Place conference, trade show, or convention.
Convention Center Technology Rentals
*ConventionVendor.com is not affiliated with or in any way authorized by the David L. Lawrence Convention Center. ConventionVendor.com is an independent nationwide technology rental provider and this page in no way implies exclusivity of service to the David L. Lawrence Convention Center.
---

All rentals, services, products, and promotions on this website are subject to location & availability.

© 2023 Convention Vendor
All Rights Reserved
Founding/Past Member of the NCRA/ITRA
National Computer Rental Technology Association/International Technology Rental Association


Member of the Tech Army Organization

Hosting and Design by Xponex Media