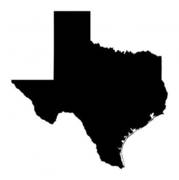 111 Texas Convention Rental Techs
| | |
| --- | --- |
| Rentals - Audio Visual: | 13 |
| Rentals - Copiers: | 5 |
| Rentals - Desktop Computer: | 12 |
| Rentals - Laptops: | 8 |
| Rentals - Microphones / PA: | 6 |
| Rentals - Displays: | 9 |
| Rentals - Printers: | 9 |
| Rentals - Projectors: | 9 |
| Rentals - Servers: | 3 |
| Rentals - Sound Systems: | 7 |
| Staging - Stage Construction: | 1 |
| Staging - Audio / PA: | 6 |
| Staging & Events - Event Planning: | 2 |
| Staging - Image Magnification: | 3 |
| Staging - Lighting: | 4 |
| Staging - Pipe & Drape: | 4 |
| Staging & Events - Production Services: | 2 |
| Staging - Video: | 5 |
| Staging - Web Casting: | 3 |
| | |
Approved Vendor Links
Computer Laptop Rentals
Computer Rental, Laptop Rental, Notebook Rental, Projector Rentals, Plasma Rentals 888-736-8301...
www.rentacomputer.com
Laptop Rentals
For Laptop Rentals, Tablet PC Rentals, Notebook Rentals Call 1-888-736-8301...
www.rentourlaptops.com
Projector Rentals
Book your technology rental needs with a Tech Travel Agent 888-736-8301 Your projector and plasma rental specialist!
www.rentourprojectors.com
TECH-ARMY™ | Tech Army Organization
The World's best army of technicians, engineers, av experts and cctv security camera installers.
www.tech-army.org
Plasma Rentals & Projector Rentals
Plasma Rentals, LCD Projector Rentals & DLP Projector Rentals 888-736-8301.
www.pcavrent.com
Texas Convention Center AV & Computer Rentals

The experienced agents at ConventionVendor.com are very familiar with the world class convention center in the great state of Texas. From the George R. Brown Convention Center to the Henry B. Gonzalez Center, our agents can procure any kind of audio-visual technology rentals for your Texas event. ConventionVendor.com has over 260 Technicians, Engineers and Installers in Texas available to deliver and install AV equipment at your next Texas convention.
We can get you Audio Visual Equipment, Staging, Lighting, Sound, Video, Digital Signage, Computers, even independent wireless connection to the internet.
Why is Texas so big?
Not only is Texas the second largest state in the nation, but it also has more Fortune 500 companies' headquarters than any other state in the country, as well. With large companies such as AT&T, Whole Foods, Blockbuster, Dell, and ExxonMobil and large cities such as Houston and Dallas (the fourth and sixth largest in the country, respectively), people are flocking to the state to open new businesses. The "Lone Star State" leads the nation in a number of industries. It has the largest number of farms in the United States, leading the nation in livestock, sheep and goat products, and cotton production. Energy is also big business in Texas; the state's petroleum deposits make up the fourth largest reserve in the country and it is also home to the Baytown Refinery, the largest refinery in the United States. It also leads the nation in wind power, solar power, and natural gas production. Texas is home to some of the best technology in the world, including several leaders in the aeronautics industry. The state's economy is rounded out with a strong presence in the retail, wholesale, banking, insurance, and construction industries.
George R. Brown Convention Center - Houston, Texas
Located in Houston Texas, the nation's third largest city, the George R. Brown Convention Center boasts 1,800,000 square feet and four exhibit halls placing the George R. Brown facility within the top 10 largest convention centers in the country.
Event Calendar
|
Directions
|
Floor Plans
Henry B. Gonzalez Convention Center - San Antonio, Texas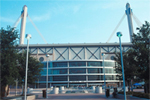 Historic downtown San Antonio is an ideal and peaceful setting for the beautiful 1.3 million square foot Henry B. Gonzalez Convention Center. Hosting 59 meeting rooms, 3 ballrooms, 4 exhibit halls and even its own 2500 seat Performing Arts Theater, the Henry B. Gonzalez Convention Center is the heart of the San Antonio trade show and event industry.
Event Calendar
|
Directions
|
Floor Plans
Dallas Convention Center - Dallas, Texas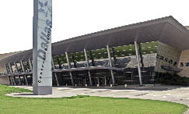 The Dallas Convention Center is the crown jewel of downtown Dallas. Boasting over 1,000,000 square feet, a main feature of the center is the 203,000 square foot column-free exhibit hall, the largest of its kind in the entire United States. Additionally, the center has a nearly 10,000-seat theater and nearly 100 meeting rooms.
Event & Meetings
|
Directions
|
Floor Plans
Convention Center Technology Rentals
Desktop rentals can be great if you are setting up interactive kiosk stations, or temporary computer labs.

Laptop rentals are great if you need on-the-go computing for your event, so that you can stay connected.

If you need fast and lightweight computing to keep track of your information during your event, then you should get a tablet pc rental.

Projector rentals can be an essential component of a convention if you need video presentation technology.

Plasma rentals are also a great asset for presenting video at a large convention, and we can deliver and install your plasma rental.

Video wall rentals are great for presenting large scale video to large audiences, and are easy to get delivered and installed from our agents.